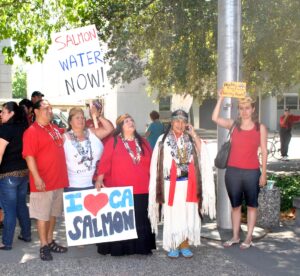 MEDIA ADVISORY Contact: Gary Mulcahy, Winnemem Wintu Tribe
For Immediate Release: August 23, 2016 Phone: (916) 214-8493
email: gary@nullranchriver.com http://www.run4salmon.org/
Winnemem Wintu's #Run4Salmon to Highlight Threats to Salmon
WHAT: The Run4Salmon event is a 300-mile trek that will follow the historical journey of the salmon from the Sacramento-San Joaquin Delta to the Winnemem (McCloud River) to raise awareness about the policies threatening waters, fish, and indigenous lifeways. Winnemem Wintu Chief Caleen Sisk and a collective of Indigenous women, activists, and allies are organizing this sacred undertaking to bring the Salmon runs back home to their native spawning grounds on the McCloud River, ancestral home of the Winnemem culture.
WHY: It's a dire time in California for wild chinook salmon (Nur), sacred to the Winnemem and many other California indigenous people. Climate change, giant dam projects, watershed clear cuts and the diversion of rivers for Big Ag irrigation threaten the survival of the keystone keepers of Winnemem waters. Salmon bring essential nutrients to our waterways, forests and lands. However, since Shasta Dam was built 71 years ago, salmon have been unable to return to their home waters in the Winnemem's mountain watershed. Now, the Winnemem Wintu Tribe is working to bring the genetic descendants of their salmon back from New Zealand, where fertile eggs were exported in the 1880s. While opposing plans of the federal government and Westlands Water District to raise the height of Shasta Dam, the Winnemem propose a new fish bypass and reintroduction of the New Zealand salmon to their home waters.
The Run4Salmon will shine a light on the threats to salmon's existence and the vital role they play in keeping waters and forests healthy. Participants will lay down blessings along the route the New Zealand salmon will take once they return. This is a ceremonial way to bring salmon home. The Winnemem consider salmon "the keepers of the water," essential to maintaining healthy waterways for human and all other life that depend on these rivers. As participants run, they will pray to bring balance to the rivers of California and to all the waters of the world, which are connected.
WHEN: September 17 to October 1, 2016.
WHERE: Fundraiser pre-event: September 10: Concert in Oakland, 7-11pm
September 17: Ceremony – Sogorea Te, Vallejo, 10am, walkers depart at 2pm
September 17-18: walk from Sogorea Te to Riverview Park, Pittsburgh, CA
September 19: boat from Riverview Park, Pittsburgh, CA to Sacramento, CA, 9am to 4pm
September 19-21: Sacramento: concert, legislative screening, ceremonies at start and end
September 20: Informational Program at Washington Community Center Sponsored by SolCollective (time and program still TBD)
September 21: films & concert at Crest Theater, Sacramento, 5-11pm; concert by Hawane Rios, and Sara Tone, Midnight Players, Ashwut and a special guest, hosted by Nakho Bear
September 22: Boaters leave Discovery Park and head upriver to Colusa
September 23: Bicyclists journey from Colusa to Woodson Bridge
September 24: Society of Environmental Journalists conference.
DoubleTree by Hilton Hotel Sacramento, 2001 Point West Way
"Indigenous Rights and the Environment" session, 10:45am–noon, Capital Ballroom D
Moderator: Peggy Berryhill, General Manager, KGUA (Gualala, CA), Caleen Sisk on the panel
September 24-25: Runners from Woodson Bridge to the mouth of Cow Creek
September 26: Youth group runners from Cow Creek to Shasta Lake at Jones Valley
September 27: Ceremony at Winnemem Tlut, dancers, singers.
September 28: Nahko and Horseback Riders leave Village to journey to the McCloud River
September 29: Redding concert at Riverfront Park, 800 Sundial Bridge Dr., Redding, CA, 2-10pm; concert by Hawane Rios, Ashwut, Lyla June Johnston; Native Dancing by Thundering Moccasins; Speakers: Chief Caleen Sisk, Pua Case, and more to come.
October 1: closing ceremony, McCloud River Campground
WHO: Winnemem Wintu Chief and Spiritual Leader Caleen Sisk is an internationally recognized speaker on traditional tribal and spiritual issues and is a leading voice in raising awareness of the poor human rights conditions suffered by federally unrecognized tribes and unrepresented indigenous peoples around the world. She is a regular speaker at the United Nations Permanent Forum on Indigenous Issues where she has campaigned for the U.N. to study the plight of federally unrecognized tribes in the United States. Caleen
Corrina Gould is a Chochenyo and Karkin Ohlone woman, born and raised in Oakland, CA. In April of 2011 Corrina, Wounded Knee De Ocampo and a committee of others, joined together and put a call out to warriors to create a prayerful vigil and occupation of Sogorea Te in Vallejo CA. This is a 15 acre Sacred Site that sits along the Carquinez Straits. The occupation lasted for 109 days and resulted in a cultural easement between the City of Vallejo, the Greater Vallejo Recreation District and two federally recognized tribes.
Nahko Bear is an American musician, born in Portland, Oregon. He has a mixed ethnic background including Apache, Puerto Rican and Filipino descent. He began playing piano at age six. His creative inspiration is the desire to bridge cultural gaps. Nahko and Medicine for the People is an American world music musical collective formed in 2008. The five member group is headed by Nahko Bear and their music is a fusion of various cultural musical influences.
Hawane Rios, Native Hawaiian activist and singer, hails from Waimea on Hawai'i Island, nestled in the protection of the majestic and sacred Mauna Kea. With her mother Pua Case, they are leaders in the fight to stop construction of the Thirty Meter Telescope on Mauna Kea.
Facebook Event page:   https://www.facebook.com/events/1172742789444200/