Cruise the best kept secret,
the San Joaquin Delta,
in Style & Luxury on a 46' Maxum Yacht!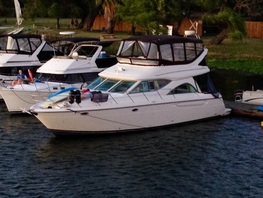 All Island Oasis cruises will begin with a gentle winding tour through the seemingly endless delta channels. 
Everyone is always surprised by the length and beauty of the sloughs. 
From the bridge of Island Oasis, you can gaze over the levee embankments onto the extensive farm fields and walls of dancing tullies.  
From inside the cabin or the open stern deck, relax with the mesmerizing sound & view of the water curling up behind the yacht.  
Enjoy the fellow boaters cruising by while pulling skiers and wakeboarders.  
Laugh at the jet skier fly off the Island Oasis yacht wake or lounge and savor the delta breeze and warm sun on the front bow.
The Island Oasis Yacht is located at the AAA Dock at 
Village West Marina in Stockton, CA
Address: 6649 Embarcadero Dr, Stockton, CA 95219
Visited 149 times, 1 Visits today