Applications Experience / Web Tension Control Solutions
Providing superior web tension control solutions for applications in the manufacture of paper, film and foil, flexible packaging, commercial printing, textiles and other web fed process industries.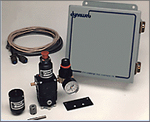 EP350 TENSION CONTROLLER
The Dynaweb EP350 is a dancer operated tension control system specifically designed for high builddown ratios. Engineered to control pneumatic brakes and clutches, it may be added to machines, often using existing brakes, or it may be designed into new equipment. Because of various factors, many manufacturers are faced with the necessity of unwinding larger and larger rolls from small core diameters that have remained unchanged. The resulting high builddown ratios can create major control problems, with stability and correct web tension being significantly impaired. To address this, the Dyanweb EP series controllers incorporate full PID control loops along with automatic gain control. With only one operator control - the tension setting regulator - the EP350 is simple to operate.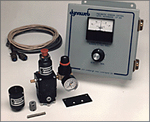 EP300 TENSION CONTROLLER
The EP300 incorporates all of the features of the EP350, with the addition of extra circuitry and controls to accommodate automatic flying splices. Like the EP350, it may be added to existing machines or it may be designed into new equipment. Both make use of control and stability circuitry which is entirely electronic except for the final output, which is 0-75 psi air pressure. The high flow, high speed servovalve allows for stable operation even with older, high internal volume brakes and clutches. With only two operator controls - the tension setting regulator and the splice preset - the EP300 is nearly as simple to operate as the EP350.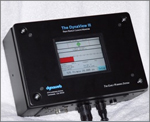 REPEAT LENGTH
These are two simple words, but so many factors can play havoc with how those two words measure up. The DynaView III Print Repeat Length Monitor measures repeat length on-the-fly, while your job is running. Your press operator will know immediately if the print repeat length goes out of the targeted preset range. With one touch on the monitor screen, the operator can switch between three different see-at-a-glance display readouts: scrolling history, analog pointer or a giant numeric screen. Each screen also displays the speed at which the job is running. Discretionary warning alarms can be set to sound or appear if the repeat length goes out of your target range. The DynaView III Print Repeat Length Monitor will pay for itself in just a short time with decreased waste and improved production schedules. You'll have significantly fewer reruns, reduced returned freight costs and improved customer relationships.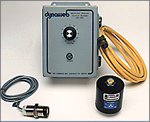 SP100A TENSION CONTROLLER
The Dynaweb SP100A is an ultrasonic roll diameter measuring tension control system designed for those applications where minimum cost and ease of installation are the most important considerations. It is suitable for operations where the roll conditions are good and the line speeds are steady. Automatic rather than manual control can offer lower waste and greater operator efficiency by freeing the operator from the need to continuously adjust the unwind brake (or the rewind clutch).
Visited 1120 times, 1 Visits today