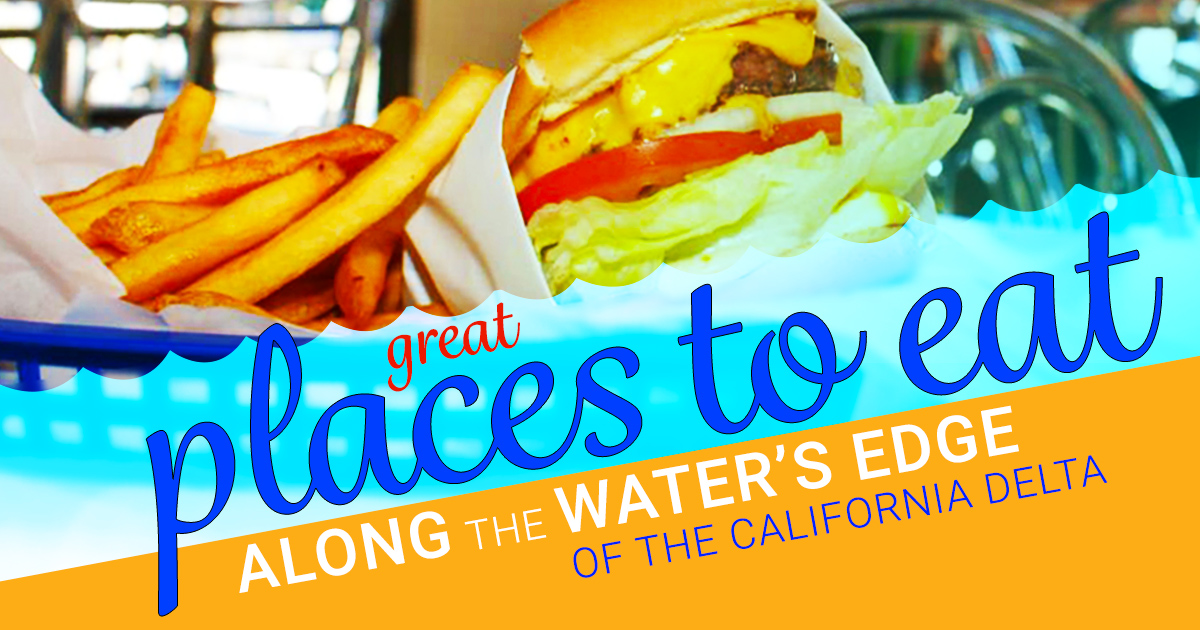 Great Places to Eat Along the Water's Edge of the California Delta
Food just seems to taste better when you are next to the water. Whether you are munching on Delta-caught crawdads or attacking a large portion of savory prime rib, the dining experience is just more fun here too. We encourage you to call ahead to make sure food service is available before you make a long drive or boat cruise to dine out.
There are some dining establishments that do not take credit cards. Check ahead, or bring hard cash. Most restaurants offer gratis guest docking while you are dining, but there may be charges for overnight and connection to electricity.
A few restaurants may only be open seasonally, and at some their open days and hours may vary with the weather. Please call to confirm open/close status. Of course, we only list those eateries that are Delta Chambers members.
Rosa's at Tower Park
This is waterfront dining at its best. Rosa's is accessible by land or by boat. They are a full service bar and restaurant serving appetizers, soups and salads, burgers and sandwiches, pizzas and calzones and fresh italian dishes. They also have a fantastic waterfront view and plenty of parking and boat dock space. They're also known for constantly putting on awesome events! So stop by and say hello! Hours can vary during the off season, so be sure to call in advance! Learn more here.
Location: 14900 W HWY 12, Lodi, CA 95242
Reserve: (209) 365-0131
---

Pirate's Lair Café
Known as the "Garden Spot of the Delta," Korth's Pirate's Lair Café has been family-owned since 1937. The marina's sheltered location provides protection from current and wind. This beautiful setting is comprised of 16 acres which has been developed into a park like setting. Come out and Enjoy the Food & Views! Learn more here.
Location: 169 W Brannan Island Rd. Isleton, CA 95641
Reserve: (916) 777-6565
---
Garlic Brothers
Discover the unique atmosphere of Garlic Brothers located in Stockton, California. It's a perfect place for families and singles for lunch, dinner and cocktails. They serve a wide variety of items inspired by the distinct taste of the area's only wood fired grill and oven. All menu items are prepared from the freshest ingredients procured from local food growers. Learn more here.
Location: 6629 Embarcadero Dr. Stockton, CA 95219
Reserve: (209) 474-6585
---
Bob's at the Marina
Bob's boasts "the Best Burger or Breakfast in Stockton, as voted year after year." The restaurant has an understated 1950s environment - just enough to make you feel a little history but not to go overboard. The patio, which overlooks the Stockton Delta and has direct boat access, is perfect for large parties and banquets with large umbrellas and a large canopy. Learn more here.
Location: 6639 Embarcadero Dr. Stockton, CA 95219
Reserve: (209) 957-3279
---
The Point
The Point Restaurant offers fine dining with a view like no other. They are located in Rio Vista in the heart of the California Delta. They were named 2nd Best in Northern California Beachfront Restaurants! Go visit and experience their superb quality of dining for yourself. Learn more here.
Location: 120 Marina Dr. Rio Vista, CA 94571
Reserve: (707) 374-5400
---
Spindrift
Chris Corda has owned and operated the Spindrift Restaurant and General Store since its re-opening in 2005. The Spindrift has long been a popular stop in the Delta with an historic charm reflected in its nautical décor. They offer a diverse menu features daily specials and down-home cooking that includes Italian, Mexican, American, and seafood specialties, as well as homemade soups, salads, and a great selection of desserts... along with great nightly specials! Chris Corda's appreciation of fine wine is reflected in the restaurant's excellent wine list, including a large selection of wines by the glass. Spindrift's Bloody Mary is a local favorite as well as its Delta Punch and White Squall. Live entertainment draws a crowd for music every Sunday afternoon from 4-7 pm!  Learn more here.
Location: 841 W. Brannan Island Rd. Isleton, CA 95641
Reserve: (916) 777-4945
---
Chitiva's Salsa & Sports
The best Latin Dancing Club in the valley! Salsa, Cumbia, Merengue, Bachata, Top 40... Not mention tacos for only $1! Learn more here.
Location: 445 W Weber Ave #122, Stockton, CA 95203
Reserve: (209) 941-8605
---
Giusti's
When you pull up to Giusti's expect "eclectic." Their building has been standing for over 100 years. Giusti's is a history that speaks for itself, and over the years they continue to keep as much of its history as possible. After all, it is what gives the place a particular and unique ambience. Learn more here.
Location: 14743 Walnut Grove-Thornton Rd. Walnut Grove, CA 95690
Reserve: (916) 776-1808
---
Grand Island Mansion
The Grand Island Mansion is not only a great Sunday brunch spot, it's the perfect location to host your special occasion. This historic landmark, located in the heart of the Sacramento River delta region, is a spacious, full service Wedding and Reception facility, offering the finest in outstanding cuisine, exceptional service and event coordination. Learn more here.
Location: 13415 Grand Island Rd. Walnut Grove, CA 95690
Reserve: (916) 775-1705
---
Husick's Taphouse
Located on the Delta in Clarksburg, Husick's offers great food and beers on tap with great wines. They also have a new Coffee House open daily 7-11 am. Learn more here.
Location: 36510 Riverview Dr. Clarksburg, CA 95612
Reserve: (916) 832-8965
---
Ko-Ket Resort
Set on the beautiful Sacramento River, Ko-Ket Resort is the perfect camping destination for you and your family. Their snack bar serves breakfast and lunch Tuesday through Sunday. Enjoy an ice cold beverage on the spacious deck overlooking the Sacramento River! If you're boating and want to just stop in for a bite to eat, or just need to cool off with an ice cold beer or soda, tie up to their dock and come on in! Learn more here.
Location: 14174 Isleton Rd. Isleton, CA 95641
Reserve: (916) 776-1488
---
Orwood Resort Bar & Grill
Their home cooking style menu serves up a variety of long time favorites for Breakfast, Lunch and Dinner including the world famous "Okie taco". Breakfast is served "Daily until Noon" and the restaurant is open year round! Learn more here.
Location: 4451 Orwood Rd. Brentwood, CA 94513
Reserve: (925) 634-2550
---
Turner Cut
This family-owned marina is a charming retreat that offers easy access to their restaurant, along with campgrounds, launching, docking, and gas. Learn more here.
Location: 12888 W. Neugebauer Rd. Stockton, CA 95206
Reserve: (209) 465-4129
---
University Plaza Waterfront Hotel & Restaurant
At the hotel's dining venue, the Delta Bistro and Lounge, the cuisine includes All-American style menu and a full cocktails menu to satisfy the most discerning tastes. The hotel also offers room service for a relaxing dining experience. Learn more here.
Location: 110 West Fremont St. Stockton, CA 95202
Reserve: (209) 944-1140
---
Wimpy's Marina & Restaurant
Enjoy incredible views of the Delta from the outdoor bar. Wimpy's is also known for their delicious appetizers… The Fish & Chips come highly recommended! Learn more here.
Location: 14001 W. Walnut Grove Rd. Walnut Grove, CA 95690
Reserve: (209) 794-2774
---
Rusty Porthole
Enjoy waterside dining in a warm and friendly atmosphere at the Porthole! They serve great food and have one of the best views on Bethel Island! Learn more here.
Location: 3895 Willow Rd. Bethel Island, CA 94511
Reserve: (925) 684-3607
---
Sugar Barge
Come out and enjoy the beautiful view of the Delta from the top deck. Sugar Barge has comfortable seating available with umbrellas for shade, and a covered sports bar area with 3 flat screen televisions. Live music starts Saturday from 4:00 pm to 8:00 pm. The Sugar Barge Outdoor Bar & Grill is an excellent outdoor location for private parties and special events. Learn more here.
Location: 1440 Sugar Barge Rd. Bethel Island, CA 94511
Reserve: (925) 684-9332
---
This is one of many benefits of becoming a CA Delta Chambers Member. Networking and promoting our members is our #1 priority; helping to provide growth and build long term relationships is what it's about.
We are ranked #1 on Google (and all popular search engines).
We receive over 400,000 visits per year.
Our members claim they get

80%

of their traffic referred to them from our website.
Our mailing list goes out to 7000+ people located in the California Delta
For more information on joining the chamber, please visit our 'Promote Your Business' page here!